I recently went to the KBIS  (Kitchen and Bath Industry Show) as an invited MODENUS #DesignhoundsKBIS Influencer. KBIS has gotten bigger and bigger each year….it featured 600 vendors at the Las Vegas Convention Center this past February.  KBIS is THE kitchen and Bath show in partnership with the NKBA  (National Kitchen and Bath Association). This year proved that kitchen and baths are ever evolving….. 
As a Design Influencer on the KBIS floor, I was in a pack of #Designhounds scouting out the latest cool finds, design trends and inspiration for my own design projects. I really appreciated the opportunity to learn more about our generous sponsors and happily endorse and share some of my fave finds/design trends from KBIS, Caesarstone, LampsPlus, Mr. Steam, Thermador, Thompson Traders, Wellborn Cabinet and more….
And the drumroll for the Design Trends of 2019:
SMART HOME
Smart home technology is entering more and more areas of the home with an ease of integration. This ease is being seen in our appliances. Our fridges, ovens, coffee machines, wine columns are starting to connect to Alexa and to our tablets or phones. Ultimately making our busy lives easier and a great way for the aging boomer market to live better.
Thermador's Home Connect is your gateway to "exceptional culinary experiences." With the Home Connect app you can control your home appliances when you are out and about or from your own bed. Wouldn't a cappuccino all ready for you in the morning sound appealing?
The Qanto lift from Wellborn Cabinets proved that smart technology for interior kitchen cabinetry is now here. The lift solves storage solutions for the modern home. The Qanto can store anything like appliances so they can be hidden when you are not using them and provides more space for cooking on your countertops.
Samsungs refrigerator Family hub is the new way to manage your groceries, entertain your family and connect like never before. Send notes to your kids, write notes on your calendar, post images from facebook all on the face of your refrigerator door!
INTEGRATED LIGHTING:
Lighting is now more than ever being integrated into  fixtures, appliances, mirrors and steam showers all thru LED lighting technology.
Lamps Plus, a leader in the lighting industry showcased a variety of light and mirror  styles from traditional to contemporary but mainly highlighted their LED lighting for indoor and outdoor.
Experience Mr. Steams ChromaTherapy systems…it allows you to transform your steam shower environment with different colored lights.  Different colors like blue, red, green can affect your mood in different ways. Color can be healing and Mr. Steam has paved the way for the bathroom shower experience.
Thermador's Star sapphire offers real dish care solutions with cool vibes of light for entertaining guests in your home!
HIDDEN APPLIANCES

Appliances are starting to be hidden and not be visible in our kitchens. Kitchen cabinetry is acting more like furniture. See how Thermador customizes their panels and the refrigerator is hidden behind.
Pelick refrigeration hides their refrigeration drawer in a makeup table and cloning their cabinetry in veneer leather.
MIXING METALS
From door hardware to lighting, the combination of black with chrome, nickel or brass was HOT.
Schuab INC  were showing  combo black and brass door hardware:
Thompson Traders showcased this stunning copper hood in their new matte black finish with brass accents.
LIVING WELL
Over the years, I have learned a lot about Steam and its benefits for our bodies and mind.  It helps with respiratory health, skin care, holistic health,  physical wellness and so much more. Believing in the power of steam, I have incorporated one of Mr. Steam showers in one of my own bathroom design projects.
Did you know that copper is self healing and has healing powers for the skin…. Copper plays a key role in the synthesis and stabilization of skin proteins. So how about taking a soak in Thompson Traders copper tub? Or wash you face in their new black matte copper sink, beautiful!
IS IT REAL?
Is it concrete? Is it real stone? Is it real leather? Today's technology has transformed the ability for natural materials to have look a-likes in more durable and maintenance free ways…ultimately to make our lives easier.
Caesar stone showed their new Metropolitan line which encapsulates the look and feel of fine concrete with the durability and ease of maintenance that Caesarstone quartz surfaces is known for. Composed of 93% of quartz, the counter looks like concrete and stone without the worries of real concrete and stone.
Formica was showing sustainable recycled leather veneer and Compact surfaces too has the look of stone but is laminate. I was amazed at the corners and how the technology of color core has removed the ugly laminate seams from countertop edges.
.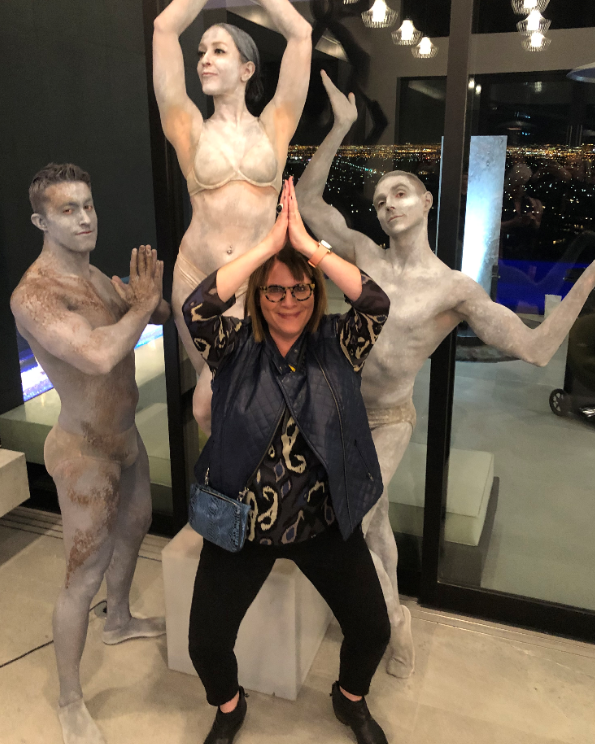 #designhounds #designhoundsKBIS #KBIS2019